AKCAKOCA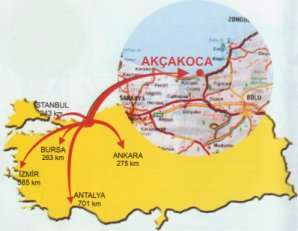 Akcakoca , located in the 83 km. north of Bolu is a lovely town on the Black Sea coast and is famous for its clean , beautiful beaches, extending both east and west , with a length of cilometers, with its good accommodations and with its traditional h ospitality of the typical Black Sea people. Akcakoca will certainly satisfy your desire to discover some unspoiled areas. There are also many camping and picnicking facilities around Akcakoca. The sandy beaches of Akcakoca provide a rare beauty of nature for nature-lovers and worshippers of swimming . You may go to the beaches in the environs of the town by municipal buses.
Akçakoca, the closest window of Central Anatolia opening to a sea is a very charming, touristic town of Bolu situated in Western Black Sea Region. Fishing, hazel-nut agriculture and tourism are the basic occupations of the local people. Akçakoca is the closest Black Sea to the metropols of Ankara and Istanbul. The region with its well preserved historical and naturalbeauties, with its unique architecture peculiar to this area, with hazel-nuts, fruits, strawberries and famous chest-nut honey, with its abundant variaty of fish available in every season, with its sea and curative beaches specially recommended for rackitis and finally with its traditional features and warm hospitability of local people, it offers an unforgetable vacation, both recration and entertainment together for every budget.
Akçakoca's known history well goes back to 1112 B.C. and its been known as Diapolis, Akçaşar, Akçaşehir and finally at 1934 Akçakoca after the name of Akçakoca Bey who was the conqueror of the region.
Akçakoca invite everybody to discover the richest green, the deepest blue, the most unique, the warmest welcome, the lowest prices and the closest Black Sea of Akçakoca. In Akçakoca there is absolutely a corner which will satisfying please every possible liking.
In 1997 Akçakoca recieved together with Genoese Castle Beach the International Blue Flag Reward given by Foundation for Environmental Education in Turkey among all over European beaches and marinas. Thus fulfilling 26 criterias of standarts Akçakoca once more proved its environmnetal cleanness not to only Turkey but to the whole World.
Being very suitable for water sports and yatching in 1997 Akçakoca was the host of Yeşil Tour ( Green Tour) organization thus starting the yatching tourism of Black Sea.
The every possible hue of green , the natural water falls, Genoese Castle, numerous picnic areas. The Pebble Cave and with their untouched beauties the 43 villages of the region are awaiting for the tourism investors to come by and create vacational sites within those wonderful natural surrondings.
The International Hazel-nut and Tourism Festival which takes place every year in the third week of July is ready to entertain those who are seeking, something very special and unique to experience.
In Turkish
AKCAKOCA BATI KARADENIZ`DE BOLU ILINE BAGLI, IC ANADOLU`NUN DENIZE ACILAN EN YAKIN PENCERESI KONUMUNDA, YESIL VE MAVININ KAYNASTIGI SIRIN BIR TATIL KASABASIDIR.YORE INSANI, FINDIKCILIK, BALIKCILIK VE TURIZMLE GECINIR. ANKARA VE ISTANBUL METROPOLLERINE EN YAKIN KARADENIZ AKCAKOCA`DIR
YORE TARIHI VE DOGAL GUZELLIKLERINE ALABILDIGINE SAHIP CIKMIS, SICAK MISAFIRPERVERLIGI, HER MEVSIM BULUNAN TATLISU VE DENIZBALIGI, FINDIGI, MEYVASI, DAGCILEGI, MESHUR KESTANE BALI, OZELLIKLE KEMIK HASTALIKLARINA IYI GELEN SIFALI KUMSALLARI, KAYNAK SULARI, DENIZI VE FOLKLORIK OZELLIKLERIYLE, HER BUTCEYE UYGUN BIR DINLENCE VE EGLENCEYI BIRLIKTE SUNAR
EN YESIL, EN MAVI, EN FARKLI, EN LEZZETLI, EN UCUZ, EN KESFEDILMEMIS, EN YAKIN KARADENIZ`DE EN SICAK MISAFIR EDILMENIZ ICIN HEPINIZI AKCAKOCA`YI KESFETMEYE DAVET EDIYORUZ.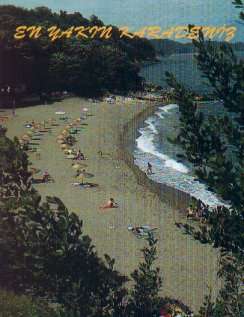 Home | Ana Sayfa | All About Turkey | Turkiye hakkindaki Hersey | Turkish Road Map | Historical Places in Adiyaman | Historical Places in Turkey | Mt.Nemrut | Slide Shows | Related Links | Guest Book | Disclaimer | Send a Postcard | Travelers' Stories | Donate a little to help | Getting Around Istanbul | Adiyaman Forum