GERGER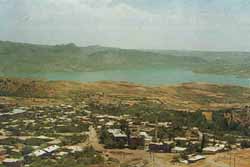 Gerger: Gerger, on river Euphrates, is about 60 miles from the city of Adiyaman and is the easternmost district (ilçe) of the province. Gerger has an area of roughly 300 square miles and a total population of 32,587. Of these, 3,854 live in the town of Gerger itself.
History of Gerger parallels the history of the region. Gerger, about 2,200, above sea level was settled, it is believed, circa 6th century B.C.E. At around that time, king Arsemos of Slevkos is said to have established a city called Lower Arsemia around Gerger. Historians think that the archeological remains within the walls of Gerger fortress is actually the Lower Arsemia. In 1085 A.D. the city and the surrounding area were taken by the Turks.
During the Ottoman times Gerger was a part of the Ottoman Maraş state. After the republic it was a village in the Malatya

province, becoming a district (ilçe) when Adıyaman itself become a province. Gerger and its region occupy the most mountainous terrain of the province. Although there is no significant industry in the region, grain and fruit farming are very important economic activities and provide most of the income for the people of the area.
The most significant archeological ruins in Gerger are the caves in the Euphrates canyon wall. These caves, which are believed to contain artifacts from Kommagenean Kingdom, are now under the waters of the Atatürk dam.

The harsh climate of the region makes transportation very difficult. Plans for an all-season highway to the city are complete, but in winter it is still the animals, mostly mules, that provide the link between Gerger and the rest of the province.
Gerger Fortress: 117 km. east of Adiyaman, and 85 km from Kahta, it is near the Oymakli Village, in Gerger district. Dating back to Second Century B.C., this castle was also used during the Islamic periods. The fortress is surrounded by strong walls and inside is found a mosque, shops, houses and water cisterns. In the village itself there are the remains of what appears to have been a very large village.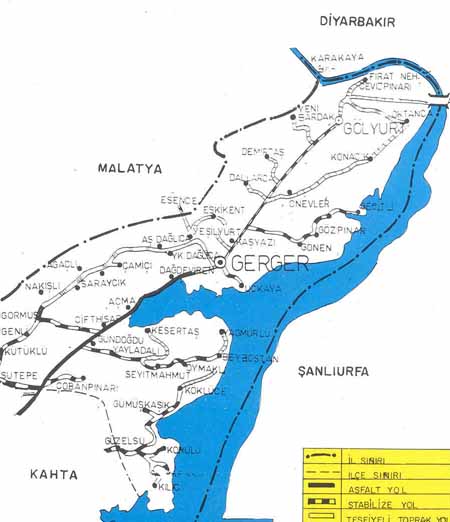 Home | Ana Sayfa | All About Turkey | Turkiye hakkindaki Hersey | Turkish Road Map | Historical Places in Adiyaman | Historical Places in Turkey | Mt.Nemrut | Slide Shows | Related Links | Guest Book | Disclaimer | Send a Postcard | Travelers' Stories | Donate a little to help | Getting Around Istanbul | Adiyaman Forum