GOLF TOURISM
Golf, which has a long history and is known for being the most environment oriented sport, is showing a great development in recent years in Turkey.
About 50 million people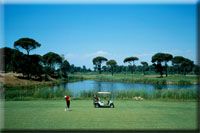 of every gender and layer of society in nearly 30 thousand fields are playing golf, which is the oldest sports branch with written rules, and also one of the most profitable ones.
As golf enables the players to have a break from daily problems, by spending hours in the nature, it is an ideal recreation and for some, a way of life.
That is why specialist attribute the improvement of the productivity and health of societies, to the increase of the number of golf clubs.
GOLF IN TURKEY
Adopting an approach of diversifying tourist activities and e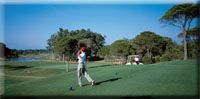 xpand those to the whole year, the Ministry of Tourism is attaching great emphasis on the golf tourism. To this end, the Ministry studied areas suitable as golf fields, which are near to our shores and the high-capacity accommodation plants. The planning on these areas has already been concluded.
Golf is a kind of recreation preferred by the high income level foreign visitors. Taking this into account, the Ministry has foreseen to include other sports facilities in planned golf fields and targeted at internationally-compatible standards. The Ministry aims at holding international golf tournaments in our country in future years and determined 10 golf fields to this end.
Under the Tourism Incentive Law No 2634, the Ministry determined some public areas to be turned into golf fields with all relevant environmental facilities and allocated these areas to investors.

Go Back to the All About Turkey / Türkiye Hakkındaki Herşeye Dön


Home | Ana Sayfa | All About Turkey | Turkiye hakkindaki Hersey | Turkish Road Map | Historical Places in Adiyaman | Historical Places in Turkey | Mt.Nemrut | Slide Shows | Related Links | Guest Book | Disclaimer | Send a Postcard | Travelers' Stories | Donate a little to help | Getting Around Istanbul | Adiyaman Forum