MARDiN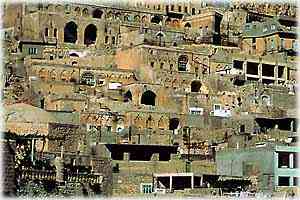 The province of Mardin, overlooking the Mesopotamian Plain, has preserved the old- style carving in its houses. Dating from 1385, the Sultan Isa Medresse is an interesting, beautiful Turkish monument with its magnificent carved portal. The Kasim Pasa Medresse, is also significant for its dome of beautiful stonework and the Ulu Mosque with its well-decorated minaret, is another sightseeing spot. On a hill, 7 kms east of Mardin, you will see something you do not expect: Deynulzaferan, a Syriac- Jacobite monastery. Several kilometres further, there is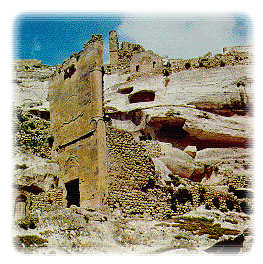 another Monastery, Deyrelmur dating from the 5th- century. If you would like to see the best examples of Artutid architecture then you have to head for Kiziltepe, 21 kms south of Mardin, 13th- century Ulu Mosque with its fine mihrap relief and beautifully decorated portal. At Hasankeyf which is on the borderline with Batman province, you will see the ruins of the ancient 12th- century capital of the Artutids. The bridge which once connected the two parts of the city over the Tigris and the palace, are others. The 15th- century Zeynel Bey Mausoleum nearby, is attractively decorated with blue tiles.

city, capital of Mardin il (province), southeastern Turkey. It lies on the southern slopes of a broad highland that rises to an altitude of 3,450 ft (1,052 m) and overlooks extensive limestone plateaus. The locality receives more rainfall than the lower plains and has hot summers and cold winters. A ruined Roman citadel, rebuilt in medieval times, crowns the summit of the highland as evidence of Mardin's earlier existence as the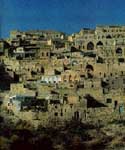 Marida (Marde, Maride, Merida) of antiquity. Marida was taken by the Seljuk Turks in the late 11th century and was incorporated into the Ottoman Empire by Sultan Selim I in 1516. The Ulu Cami (Great Mosque), dating from the Seljuk period, and the Sultan Isa Medresesi, a religious school built in the 14th century, are still standing.

Mardin is an important regional trading center on the east-west trade routes of southern Anatolia. It is connected by a branch line with the Istanbul-Baghdad railway and is linked by roads with Gaziantep (west), Aleppo (in Syria), Nusaybin (southeast), and Diyarbakir (northeast).
Mardin il (4,973 sq mi [12,879 sq km]), bordered on the south by Syria, is an agricultural area chiefly producing wheat, barley, and sesame. Angora goats are raised for mohair, and there is a small cotton- and woolen-weaving industry. In addition to the Turks, the il has a large population of Arabs and Kurds. Pop. (1980) city, 39,137; (1983 est.) il, 591,200.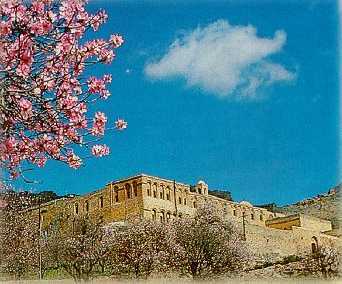 Monastery of Deyrulzaferan
From a distance, the golden stone of Mardin houses blend into the rock of the hills on which the city is built. On closer inspection, the stone carving and decoration of the houses an public buildings reveals the city as an architectural treasure-chest. Among the jewels are the ancient citadel and several mosques, in particular, Ulu Mosque. The 15th century Kasim Pasa Medrese is remarkable for its fine stonework. At the lovely Isa Bey Medrese from the 14th century, you can admire the magnificently carved portal and climb to its roof to enjoy the fantastic view over the Mesopotamian Plain.

Only 7 kilometers east of mardin.htm is the Syriac-Jacobite Monastery of Deyrulzaferan, which once was a thriving religious community. Nearby at Kiziltepe, the 13th century Ulu Mosque, one of the best examples of Artukid architecture, has superb mihrab reliefs and a beautiful portal.

Midyat, famous for its silver objects known as 'telkari', has many elegant, historic houses. Eighteen kilometers east of town is the actively functioning Syriac-Jacobite monastery, Deyrelumur(San Gabriel)which dates from the beginning of the fifth century.



Home | Ana Sayfa | All About Turkey | Turkiye hakkindaki Hersey | Turkish Road Map | Historical Places in Adiyaman | Historical Places in Turkey | Mt.Nemrut | Slide Shows | Related Links | Guest Book | Disclaimer | Send a Postcard | Travelers' Stories | Donate a little to help | Getting Around Istanbul | Adiyaman Forum