UNDERWATER DIVING




Diving for purposes of sport, with proper equipment and in non-restricted areas, is permitted.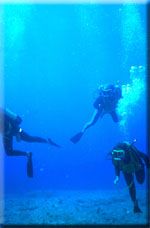 Foreign divers should have official documentation of their specifics, training and must be accompanied, when diving, by a licensed Turkish guide.
The limit for diving with diving gear is 30 meters. For educational purposes, this limit is extended to 42 meters. Dives exceeding 30 meters must be done with proper diving and medical equipment. In order to protect Turkish archaeological and cultural values, it is strictly forbidden to transport Turkish antiquities or natural specimens.
Although this information is believed to be correct at the time of this writing, the marina does not accept any liability for errors, omissions, or changes made by the authorities without prior notification.
Useful Addresses
YACHT ENTERPRISES ASSOCIATION
Yat İşletmecileri Derneği
Eski Çeşme Mah. Fırkateyn Sok. No :19
48400 Bodrum
Tel: (252) 316 23 98 - 316 47 90
Fax: (252) 31616 01
MARINA INVESTMENTS AND ENTERPRISES ASSOCIATION
(MARYAT)
Ministry of Tourism, Republic of Turkey
Sector Representative
İnönü Bulv. No. 5
Bahçelievler, 06100 Ankara
Tel and Fax: (312) 212 2184
MARINA INVESTMENTS ASSOCIATION DIRECTORATE
Netsel Marina
Marmaris, Muğla
Tel: (252) 412 27 08 - 41214 39
Fax: (252) 412 53 51
CHAMBER OF MARITIME COMMERCE (Istanbul)
Meclisi Mebusan Cad. No. 22
80154 Salıpazarı, Istanbul
Tel: (212) 252 0130
Fax: (212) 293 79 35
CHAMBER OF MARITIME COMMERCE (Marmaris)
Hacı Sabri Sok. No : 5
Tel : (252) 41213 07 - 412 07 60
CHAMBER OF MARITIME COMMERCE (Kuşadası)
Hacı Feyzullah Mah. Güleş Sok. No : 5/A
Tel : (256) 61614 67
CHAMBER OF MARITIME COMMERCE (İzmir)
Cumhuriyet Bulvarı Muzaffer Bey İşhanı No :88/1, 2. Kordon
Tel : (232) 425 7215, Fax : (232) 441 8796
CHAMBER OF MARITIME COMMERCE (Antalya)
Varlık Mah.176. Sok. Martı Apt. No :1/6
Tel : (242) 243 46 5B, Fax : (242) 243 4G 59
CHAMBER OF MARITIME COMMERCE (Bodrum, Muğla)
Fırkateyn Sok, No. 27
Bodrum, Muğla
Tel: (252) 316 23 98 - 316 58 57
Fax: (252) 31616 01
TURBAN GENERAL DIRECTORATE
Karanfil Sokak, No. 32
Kızılay, Ankara
Tel: (312) 417 4192
Fax: (312) 418 54 69
NEW NEPTUNE HOLIDAY VILLAGE
(Diving and Windsurfing School)
Büyük Akkum Nevkü No. 5
Sığacık - Seferihisar
İzmir
Tel: (232) 745 74 55
Fax: (232) 745 70 38

Go Back to All About Turkey / Türkiye Hakkındaki Herşeye Dön


Home | Ana Sayfa | All About Turkey | Turkiye hakkindaki Hersey | Turkish Road Map | Historical Places in Adiyaman | Historical Places in Turkey | Mt.Nemrut | Slide Shows | Related Links | Guest Book | Disclaimer | Send a Postcard | Travelers' Stories | Donate a little to help | Getting Around Istanbul | Adiyaman Forum