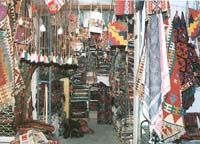 Per capita income in the province is 1,250 dollars (1999 figures) placing it 63rd among 80 provinces.
Resources Under the Land: Adıyaman is rich in underground resources. Oil, iron ore, marble, and coal are among its chief possessions. At more than 10 million barrels a year, the region produces nearly 70% of crude oil production of the country.
Forests: Adıyaman has seen some of the worst deforestation in the country. Travelers to the region spoke of dense forests of oak and pine as late as 1850. But now once forested areas are under severe threat of erosion. There have been significant efforts to reforest significant tracks of land in the province.
Agriculture: Both the land as well as the climate of Adıyaman are conducive for farming. However, farming techniques are still not modern, requiring intensive labor. Tobacco is the most important crop in the region that counts for 8% of the product harvested in Turkey. One of the significant farming problems in Adıyaman is the fact that most of the land is owned by ağas (akin to feudal lords) who employ farmers as sharecroppers. Although the region has excellent condition to raise all types fruits, there are not many orchards around. In fact many vineyards have been uprooted in favor of tobacco.
Wheat, Lentils, Barley and garbanzo beans are the provinces other significant farm products.
Animal Husbandry:
Animal husbandry is still carried out using ancient methods. The lake formed by the Atatürk dam has brought fishing to the forefront of economic activity of the region. But the area is in dire need of better methods of raising animals (especially livestock). A well- organized and planned approach should help the area, which has excellent land and climate for such purposes.
COMMERCE
As Adiyaman is not very industrialized, there is not significant commerce in the province. Adiyaman basically sells raw (or semi-finished) products to neighboring provinces. Hand-woven kilims and rugs are the only items that are sold directly to other countries. Recently there has been a movement towards textiles, with several work places opening to produce cotton thread and other cotton products. There is also a study to utilize hay from barley in making paper. In general the province has been going backwards in commerce for the last several hundred years. The artificial lake, a new airport as well as better political conditions make puts Adiyaman at the threshold of making a leap. Success in doing this greatly depends in intelligent utilization of resources with which the province is richly endowed.

Go back to about Adiyaman / Geography / Culture / Social / Health / Education / Tourism / Sport / Transportation / Municipalities / Where does the name come from? / Adiyaman Museum / Local Newspapers / Wildflowers / Wildlife / Adiyaman Forum / Adiyaman Portali


Home | Ana Sayfa | All About Turkey | Turkiye hakkindaki Hersey | Turkish Road Map | Historical Places in Adiyaman | Historical Places in Turkey | Mt.Nemrut | Slide Shows | Related Links | Guest Book | Send a Postcard | | Disclaimer