SOCIAL LIFE
ADIYAMAN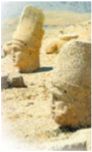 AREA: 7.614 km²

POPULATION: 678,999 (1997)

TRAFFIC CODE: 02

DISTRICTS: Adiyaman (center), Besni, Celikhan, Gerger, Golbasi, Kahta, Samsat, Sincik, Tut.

SITES OF INTEREST: Adiyaman, Kahta and Besni castles, Adiyaman Museum, Cendere Bridge, Ruins at Mt.Nemrut, Karakus Hill, Pirin (Perre)
and Gümüşkaya caves, Golbasi Lakes.

Provincial Culture Directorate
Tel: (416) 216 12 59
216 19 91
Fax: (416) 216 24 78

Museum
Adiyaman Museum
Address: Ataturk Cad. Adiyaman
Tel: (416) 216 29 29
Fax: (416) 216 98 98
Historical Sites and Ruins
Mt. Nemrut Ruins - Kahta / Karadut
Arsemia Ruins - Kahta / Kocahisar
Old Besni - Old Besni/Center
Pirin Ruins - Adiyaman/Center

SOCIAL LIFE

Education: According to surveys there are 129,272 students in Adiyaman taught by 4,938 teachers. The literacy percent for the province is published at 63% although this number is nor very reliable. Every village in Adiyaman has a school. There is intense lobbying by the university on the Ministry of Education to establish a university in Adiyaman. There are currently several junior colleges and 4 your programs offered in Adiyaman by Inonu University in Malatya.

Transportation: The airport that connects Adiyaman to other parts of Turkey via Ankara opened in 1998. There are flights to Ankara two days a week. Except for a span of railroad that passed through Golbasi in western Adiyaman, there are no rail links of the province to other places in Turkey. Surface roads are the most poplar mode of transportation in the region with 500 miles (including stabilized roads to the villages) roads in the province. Of these, roughly 100 miles are paved all-weather roads. As in other provinces in Turkey there are excellent bus inter-city bus connections to all parts of Turkey.

In the city of Adiyaman itself transportation is achieved via city busses, dolmus (vans stopping in designated places on their routes to designated sections of town), taxis and private autos. With the creation of the artificial lake, ferryboats carry passengers and vehicles across the lake. In rural areas transportation by animals, donkeys and mules is still fairly common.

Public Health: There were, in 1998, 39 specialist doctors, 150 general medicine doctors, 16 dentists, 2 pharmacists, 16 anesthesia technicians, 352 nurses, and 57 medical practitioners. There is a state hospital with a 400-bed capacity. There is one hospital bed for each 714 people in the central district, Adiyaman. This ratio is 2170 people per bed in Besni, 2531 in Kahta, and 1202 in Golbasi.

Population: According to 1997 figures there are 678,999 people in the province of Adiyaman. Of this, 58% live in cities or towns and 42% in rural areas. There are 90 people per square kilometer in Adiyaman compared to 73 for the entire country. The population of Adiyaman represents 1.8% of the population of Turkey. Again based on 1997 figures the population growth was 35 per thousand, much higher the country as a whole. According to census figures there are 7.1 people in every dwelling in the province.

Go back to about Adiyaman / Geography / Culture / Economy / Health / Education / Tourism / Sport / Transportation / Municipalities / Where does the name come from? from? / Adiyaman Museum / Local Newspapers / Wildflowers / Wildlife / Adiyaman Forum


Home | Ana Sayfa | All About Turkey | Turkiye hakkindaki Hersey | Turkish Road Map | Historical Places in Adiyaman | Historical Places in Turkey | Mt.Nemrut | Slide Shows | Related Links | Guest Book | Send a Postcard | | Disclaimer